Friedrich Wilhelm Hering
Victim | 06 October 1899 | Missionary and teacher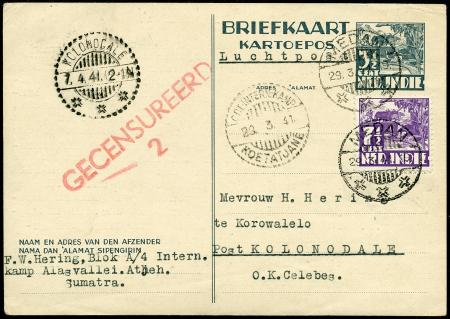 Born in Blücherthal (Germany)
Missionary and teacher with the Lutheran Indische Kerk. The sequence of his professional postings is not clear but include: the Batak people (Gunung Meriah, Deli, Sumatra) and Poso, Sulawesi(Celebes)
In January 2022 Reinhard Huppenbauer contacted the vanimhoff.info site informing that he is writing a biography on the wife of Wilhelm Hering: Anna Maria Helene Frickenschmidt who is the sister of Reinhard Huppenbauer's grandfather.
During his research, details on Wilhelm's life remained scarce. Reinhard confirms that Wilhelm Hering was a missionary in the service of the Dutch Lutheran Mission Society. He was posted among the the Batak people in Sumatra in 1925. In 1926 Helene Frickenschmidt joined him in Sumatra, where they married. In the same year they went to Poso, Sulawesi (Celebes) to a Dutch missionary station.
Hering's name as victim is mentioned in Gottlob Weiler's Der Untergang der Van Imhoff - ein Augenzaugenbericht. Evangelischer Missionsverlag, GmbH, Stuttgart, 1953.
After the war, his wife Helene arrived in the port of Rotterdam in July 1947. She went to her brother Wilhelm Frickenschmidt in Düsseldorf, Germany. Here she met Reinhard Huppenbauer. Helene died in 1967.
In 2018, a postcard surfaced at auction sites. The card was mailed by Wilhelm Hering from the internment camp in Koetatjane and sent to his wife Helene in Celebes (Kalimantan). A typewriter was used for the message and censorship applied.
Source: Burgerlijke Stand Batavia, bijzondere overlijdensregisters 1948-1950, Arsip Nasional Jakarta.
Submit additional information about this person
Back to list