Van Imhoff.info
the weight of memories
Ernst Leo Fischer
Survivor | Date of birth unkown | Representative of Robert Bosch AG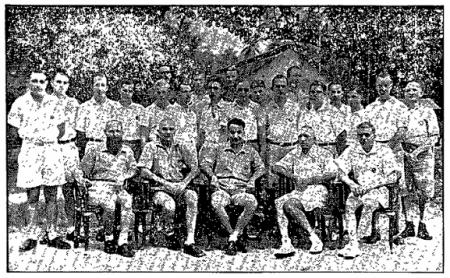 Born in Vienna. Merchant in Surabaya. In Nias, he was appointed as President of the Freie Republik Nias. In this capacity he became commander and representative of all captured Germans in exile.
Just after WW II in Asia, he appears in the German expatriate community in Sarangan near Madiun in East Java. This community was waiting for history to take a better course. The enclave was mainly populated by women and children. They had started a German school, with Japanese as second language as a gesture to the occupying force.
Fischer assists the Indonesian nationalists in getting themselves organized. In the period 1947 - January 1948 he is (again) imprisoned by the British a/o Dutch military. Probably because of his role in the capture of British military in Nias and their subsequent deaths in Japanese camps.
In 1948 he is shipped to his home country Austria.
He responds to the call for informants by magazine Der Spiegel in 1965: (quote) es meldeten sich: Blatjenwerbe (Niedersachsen), Ernst Leo Fischer (Wien), Erna Meyrich fuer ihren Mann Siegfried Meyrich, Albert Vehring (Bielefeld) und Karl Zeemann (Thalwil, Schweiz). Sie schilderten nochmals die furchtbaren Szenen, die sich auf der "Imhoff" abspielten (unquote)
In his letter Ernst Fischer also refers to the perhaps reprehensible role of lieutenant De Hoog, commander of the military guard on the Van Imhoff:
"In Ihrem Artikel, zu dem ja noch vieles gesagt werden könnte, fehlt meiner Ansicht nach unter anderem die Erwähnung des dritten "Helden" im Bunde, nämlich des Kommandanten der Bewachungstruppe, Leutnant de Hoog. Dieser hat nach dem Luftangriff auch eine sehr traurige Rolle gespielt, wurde aber trotzdem von seinem Militärkommandanten nach seinem Vortrag, den er im Offizierskasino von Kaban Djahe (Sumatra) über den Untergang der "van Imhoff" gehalten hat, mit einer belobenden Anerkennung für sein Verhalten ausgezeichnet.
Die Auffassungen über Kriegsverbrechen sind doch sehr verschieden. Die Holländer wollen einfach nicht wahrhaben, daß es auch in ihren Reihen Feiglinge und Kriegsverbrecher gegeben hat.
Si duo faciunt idem, non est idem.
Wien ERNST LEO FISCHER"
In the early 1960-ies Fischer is approached by C Van Heekeren together with G Weiler (missionary from Banjarmasin), A Vehring (planter from Irian and on Java), J Grasshoff (ship steward from Padang), E. Kempf from Pontianak, H. Sack (nurse from Sabang), K Seemann from Banjarmasin and W Schweikert (piano builder from Semarang). They become key witnesses to the sinking of the Van Imhoff, the struggle of the survivors at sea and the landing and follow-up on the island of Nias. Their stories and statements are reflected and cited in the well-documented comprehensive account of the Van Imhoff affair by Van Heekeren (Batavia seint: Berlijn, Bert Bakker, Den Haag 1967)
Fischer appears in this unique group photo of the Van Imhoff survivors in Nias.
Submit additional information about this person
Back to the list